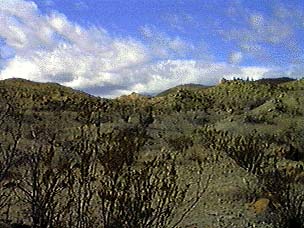 Big Bend National Park Pointers and Pictures
---
Greetings, you are visitor
since 5/18/96.
---
Here are pointers I have found to information about Big Bend National Park, Brewster Co., Texas. If you know of any other sites with information about Big Bend then please send me mail.
---
I added an extensive section of Big Bend National Park Virtual Geology views on 5/6/04. This section includes a number of 3D QTVR views using the Maxwell et al (1967) Geology Map of the park on topography from the USGS and also a geologic flyover. You can go directly to the page by clicking here or by scrolling down through the various picture pages.
---
On November 30, 2012, I added resources that might be of interest for those working with geologic maps of Big Bend National Park. These include a GeoTIFF file of the 2011 USGS Geological Map of Big Bend National Parks (it has many flaws but is a bit better than the original Maxwell Map), an ACD Canvas GIS+ version of the map and a Natural Scene Designer 3D project with the map. These are available for free download but may be very large. Click here to go to the download page for these files.
---
If you are visiting Big Bend for the first time, many of the sites linked below should provide you with a wealth of useful vistor information. However, I have received a number of requests for suggestions about driving to Big Bend and I haven't seen much written about that particular subject. If you are interested in my viewpoints on the subject, click here.