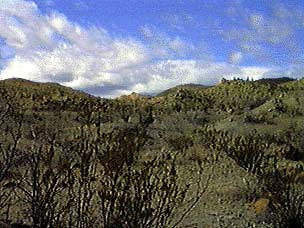 Traveling to Big Bend National Park
---
I have included some simple instructions for approaching Big Bend from major population/highway directions. Be sure to obtain tourist information from the State of Texas for details about points of interest along the way. If you are interested in geology then I suggest purchasing the Roadside Geology of Texas and looking up points of interest along the routes towards the Park. Once you are in the park there is a book, Roadside Geology of Big Bend that is very good. Although there may be other routes than those I mention below, they are routes I have taken before.

If you intend to fly commercially into Big Bend, the closest airports are El Paso or Midland/Odessa - you will have to rent cars from there. If you fly yourself then the closest airport is in the tourist town of Lajitas just west of the Park.
---
From El Paso and points west
Take I/10 from El Paso to Van Horn. At Van Horn turn south on US 90 towards Marfa. At Alpine turn south on SR 118 towards Study Butte and the Park. This route will place you on the western edge of the park and in close proximity to many hotels and the towns of Study Butte, Terlingua and Lajitas.
---
From Amarillo and points north
Take US 87 south from Amarillo to Lubbock. In Lubbock take US 62 south through Brownfield and Seminole. From Seminole take US 385 south to Odessa where you will intersect I-20. For the route west from Odessa see the second paragraph of the description below.
---
From Fort Worth/Dallas
Take I-20 or I-30 (which merges with I-20 west of Fort Worth) west towards Abilene. Stay on I-20 for what seems to be forever ( :-) ). If you are geologically inclined you might want to visit the Permian Basin Oil Museum in Midland - they have a great restoration of the Permian Reef with thousands of hand-painted Permian-aged marine beasties. Stay on I-20 past Odessa.
You can either turn south on Ranch Road 1053 or travel a little further west and turn south at Monahans on SR 18 - in either case you will end up in Fort Stockton. Either route will do a good job of showing off a vast field of sand dunes north of Fort Stockton. If you are stocking up on groceries Fort Stockton is the last place you will have plentiful pickings (assuming you don't deviate west to Alpine). From Fort Stockton continue south on US 385 through Marathon to the eastern entrance of the Park at Persimmon Gap.
---
From Houston/San Antonio and points east
There are two major routes towards Big Bend if you are motoring in from Houston or San Antonio. If you are in a hurry then just get on I-10 and head west until you reach Fort Stockton (this will seem to take an eternity - but Texas is a BIG state). From Fort Stockton follow the instructions mentioned above. This route will expose you to the vast and sonambulent exposures of Cretaceous limestone draped over the center of Texas.
The second route will be slower - but will, at times, provide greater photographic opportunities. From San Antonio take US 90 west towards Uvalde. Stay on 90 past Brackettville (which still hosts of the replica of the Alamo used during the filming of the movie of the same name) to Del Rio. In 1986, on my way out to Big Bend in January, I was once caught in a blizzard in Del Rio for 3 days!!!! Stay on US 90 through Langtry (former home of Judge Roy Bean - Law West of the Pecos). Along the way you will see some beautiful canyon scenery. Eventually you will end up in Marathon, where you turn south on US 385 towards the Park.
---

Back to Big Bend Page
---
For questions about this page email Art Busbey at busbey@gamma.is.tcu.edu
Page created 7/13/97
Last revised 3/27/2001
Copyright © 2001 Art Busbey
---